This album was recorded in two relatively short days in September 2010 in Nashville, Tennessee. All first takes.
We wrote the music for the songs in Paley's apartment in Brooklyn over three afternoons when Francis was in New York for a three day run at Joe's Pub. After which we each took half of the songs to finish off with lyrics. Francis went off to meet what he sometimes liked to call "the old band" for another tour.
A few days later, we were recording at Jon Tiven's studio in Nashville. We each sang lead on the songs we wrote lyrics for and sang backup on the others. We worked fast. Francis had Pixies shows each evening, so we had a curfew. Paley recalls finishing the lyrics to one tune literally a minute before cutting the vocal. The two of us on guitars, with legendary Muscle Shoals players David Hood on bass and Spooner Oldham on piano. Damn, those guys are good.
Hope you dig the vibe.
Paley & Francis
Spring 2011
Brooklyn, NY and The Pacific Northwest
1. Curse
2. On The Corner
3. Magic Cup
4. Ugly Life
5. Seal
6. The Last Song
7. Crescent Moon
8. Deconstructed
9. Praise
10. Happy Shoes
All songs by Paley & Francis
Produced by Jon Tiven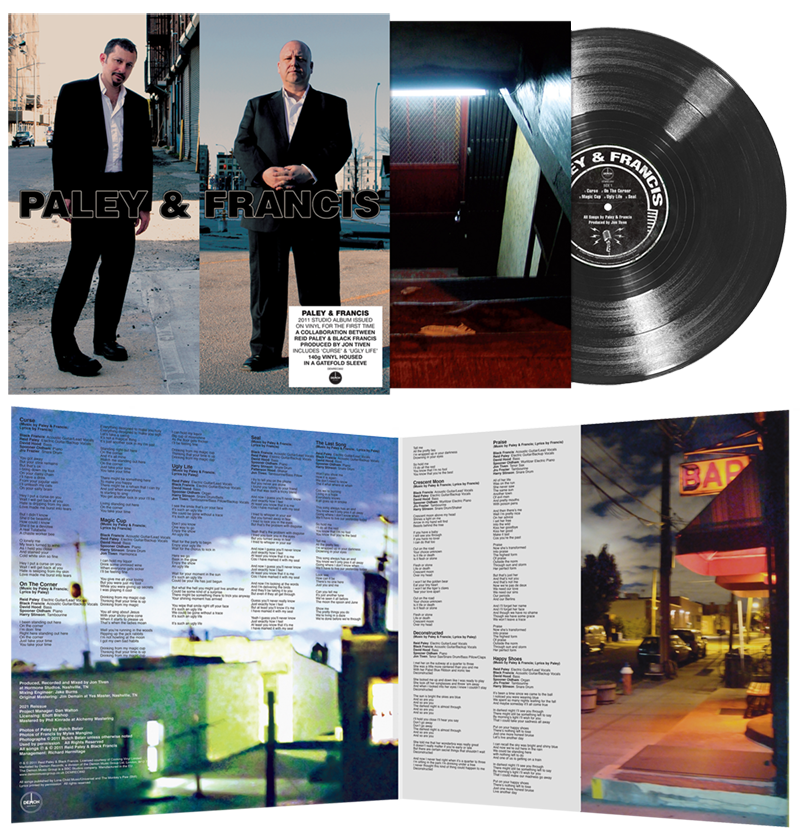 Reid Paley talks Paley & Francis and more on WZBC Boston October 2011
"...the first full-length collaboration between Reid Paley and Black Francis winds up getting better the more you play it."
- - American Songwriter
"What you get is two compelling performers and their songs...The fact that Paley and Francis wrote this album together over the course of three afternoons and then recorded it in two is part of its charm."
- - Boston Phoenix
"There is a clear chemistry between the pair and without it they would not be able to pull off an album of this calibre in such a short space of time...a strangely compelling listen."
- - Tape to Tape UK
"Their voices and dark humor blend wonderfully—Francis' mid-range singing lifts Paley's deeper, more resonant sound, and the former's wit and word play are anchored by the other's irony and sarcasm...every song's a gem."
- - Valley Advocate
"...in Paley & Francis their rapport is evident. Many listeners will have high expectations of Black Francis, and they won't be disappointed."
- - Shout4Music UK
"...a great record from two musicians that sound like they've always played together."
- - Slug Magazine
"...the songs come from a real place and, stripped of the luxury of endless edits and rewrites, cut right to the heart."
- - TheWaster.com
"...it's now been proven that if you stick two prolific songwriters in a hotel suite for a couple of days, they'll come out with a killer LP."
- - Pop Damage
"That the album sounds expectedly rough-edged and unpolished is precisely its charm...The performances are charismatic..."
- - Rolling Stone (South Africa)
Album of the Week
- - QRO Magazine
"...it's absolutely brilliant. Every song is outstanding."
- - KZSU 90.1 FM